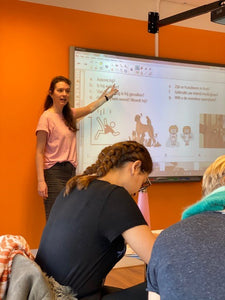 Immerse yourself in useful Dutch phrases and essential intermediate vocabulary to succeed as an expat in the Netherlands with this fast-track B1-level course. With this course, you can complete your intermediate B1 Dutch level.
This is the second half of the B1 language level course! Continue on your path to communicating successfully in Dutch! Optimised for your personal language learning success, this package of lesson hours uses the entire book Contact! Nieuw 3 to elevate your Dutch language skills to this intermediary level.  
This course is meant for those who have finished the first half of the B1 Dutch language level already and want to continue with the second half of the B1 Intermediate level. With this course, you will finish the B1 language level by working with the book Contact! Nieuw 3. 
Please note that the course fee for this course does not include the mandatory course materials: 
Contact! Nieuw 3, chapters 9-16
Course material for classroom-based courses
The use of books and other teaching materials on the course is obligatory. Books are not included in the cost of the course and you can buy the required books at our school or in most bookshops. Your instructor will also provide additional material that is not included in your textbook and associated workbook. You will receive homework based on the textbook and workbook used in your course.
Obligatory materials 
Contact! Nieuw 3 textbook and workbook 
The books are available in a paper version or a digital version (license 14 months). You can choose to buy what you prefer to use. Bring your paper or digital books to each lesson. 
Contact! - Nieuw 3 (B1): Set hard-copy textbook and workbook including digital license €78,95; or digital text- and workbook combined for €44,95. 


This course consists of 48 lesson hours. 
You can choose an intensive course (lessons 4x a week) or a standard course (lessons twice a week). Please check the planned prices and dates options in the "Choose date" section.