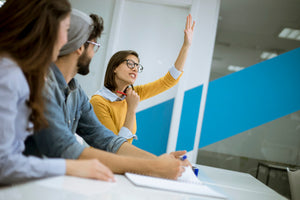 Learn to communicate in a professional environment, for academic success or in everyday situations on a more advanced level in Dutch. This is the final of four B2-level mini courses, consisting of 8 interactive group sessions with an experienced and qualified teacher. This course covers the fourth part of the B2 Dutch level and will also help you to prepare for the Dutch Staatsexamen NT2 - Programma II (Niveau B2)
This course is meant for those who have finished the third part of the B2 Dutch language level with the B2.3 course and want to continue on with the B2 High Intermediate level. With this course, you will finish the B2 language level and by working with the book Contact! 3. 
Please note that the course fee for this course does not include the mandatory course materials: 
Contact! 3, chapters 7A-8C
Course material for classroom-based courses
The use of books and other teaching materials on the course is obligatory. Books are not included in the cost of the course and you can buy the required books at our school or in most bookshops. You will receive homework based on the textbook and workbook used on your course. Bring your paper or digital books to each lesson. 
Obligatory materials
This course consists of 24 lesson hours. 
You can choose an intensive course (lessons 4x a week) or a standard course (lessons twice a week). Please check the planned prices and dates options in the "Choose date" section.