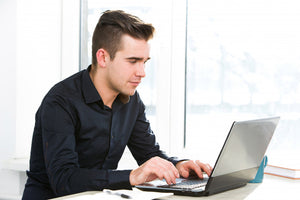 Our preparation course for the inburgering exam (Dutch civic integration exam) intended for students who are planning on taking the obligatory NT2 (Dutch as a second language) speaking, listening, writing and reading components of the Dutch civic integration exam. 

Inburgering courses consist of a combination of group work in the course, self-study and online resources. ​In each course at Dutch First there is a minimum of 6 and a maximum of 14 participants per group. The group size is optimal for creating a safe learning environment where participants can get to know each other, but still allow for personal attention and supervision. Our target audience is educated non-Dutch speakers that want to learn Dutch. We welcome participants of all origins. At the moment (March 2021) it is not possible to pay for a course with a DUO loan. You can also choose to do one of our regular NT2 courses instead of our inburgering packages. 

Dutch First uses lessons based off of the method Contact! Nieuw from publisher Intertaal, both for Inburgering and regular courses. The lessons are given in a classroom setting or online via a virtual classroom. For classroom-based courses, we use Smartboard technology combined with video- and audio fragments and game elements to make lessons interactive. Students work in groups under supervision of a teacher, with parts of the lessons designated for explanation of essential componenets by the teacher. 

If you would like to pay using your DUO lening you will have to book an intake meeting with us in Dutch First 

Course level
This course is meant for beginners of the Dutch language. Students with an A0/beginnrs level will be placed in a group together and will not have lessons with other level students in the same group. Inburgering students can join in from the beginning (A0), or after each level (A1, A2, B1 part 1). If you do not want to start from A0, you have to be able to show that you have completed the earlier levels by 
1) having followed a course on these levels before and/or
2) showing a course certificate of the level in question
New students can only join in later if they have done a level test at Dutch First and our advice corresponds to the level accordingly.

After having completed the full package, you will be at the B1 language level. This is also the level on which the civic integration exam will be held from mid-2021.  The civic integration exam is conducted by the Dutch government. For all dates and to register for the exan, please have a look at this website: https://www.inburgeren.nl/examen-doen/aanmelden.jsp  
For more information about the exam, please have a look at: www.inburgeren.nl
 
 
Course materials
Contact! nieuw 1 + 2 + 3 textbook and workbook 
The books are available in a paper version or a digital version (license 14 months). You can choose to buy what you prefer to use. Bring your paper or digital books to each lesson.  
Contact! - Nieuw 1 (A1):
Textbook
 €40,90; 
Workbook
 €37,40; or 
digital text- and workbook
 for €40,90. It is also possible to get a 
set 
of the digital books, with an extra hard-copy textbook for €50,70.  
Contact! - Nieuw 2 (A2):
Textbook
 €40,90; 
Workbook
 €37,40; or 
digital text- and workbook
 for €40,90. It is also possible to get a 
set 
of the digital books, with an extra hard-copy textbook for €50,70. 
Contact! - Nieuw 3 (B1):
Textbook
 €40,50; 
Workbook
 €36,60; or 
digital text- and workbook
 for €40,90. It is also possible to get a 
set 
of the digital books, with an extra hard-copy textbook for €50,70. 

Course duration and study load
Courses at Dutch First generally consist of 3 lesson hours of 45 minutes per lesson. You can choose a course with 4 lessons per week or 2 lessons per week. The amount of contact hours is 96 for A0-A2, and the same for B1.
Per lesson you should plan at least 2 hours of self-study. We expect of all our students that they complete all contact- and self-study hours. It is also possible to get extra practice with digital resources if necessary. 
When you register for or you are interested in an inburgering course, you will first be invited for an intake. If you are not a complete beginner, you will also do an obligatory level test. After this, you will be put in a group and you can choose a course that suits your level.
During the course, you will be personally supervised by a qualified NT2 teacher and you will also gain access to digital resources. There will also be online zoom-meetings available for self-study to discuss homework and exercises with your classmates.   
After each whole level, a binding progress test is taken (after completing A1, A2 and B1). This test must be passed in order to continue on with the next level. At the end of each module (at the end of the A0, A1, A2.1 B1.1, B1.2, B1.3 en B1.4 courses) short tests are taken as part of the lessons. These tests are not binding but just serve for you yourself to see if you understood everything in the course. 
Finishing the course
At the end of the course, you will receive a course certificate. The course certificate is a proof of attendance and is handed out if you attended at least 80% of the course. On the certificate, the CEFR language level of the course is mentioned. For which level you receive a certificate depends on which course you followed.
The certificates serve for you to show you attended a course at that level.
After completing the full course you are ready for the NT2 part of the civic integration exam!